ALBC Commemorative T-shirts: For the inaugural cremony in 2008 at Hodgenville, Kentucky. Abraham Lincoln author and artist, Bryan Eaton designed and produced two Abraham Lincoln t-shirts for the Bicentennial Commission. The shirts featured two colorized photos of Abraham Lincoln from Mr. Eaton's book "Color of Lincoln". The poses were similar showing Lincoln with arms folded. The first shows an unbearded Lincoln from the Preston Butler photo taken on August 13, 1860. The second shows a bearded President Lincoln taken by Lewis E. Walker in 1863. Both designs carry the Bicentennial logo as well as references to the "Color of Lincoln" source materials at www.ColorofLincoln.com.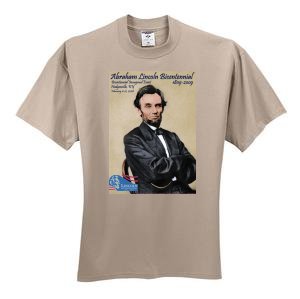 Only 300 of each shirt were produced for the event. The Abraham Lincoln Bicentennial Commission continues to provide the shirts at their online store.

---
Copyright © 2009 Color of Lincoln, Inc. all rights reserved.